XKCD's humor is often tinged with messages endorsing social justice. But in today's installment, I was quite disappointed by their joke at the expense of folks with learning disabilities.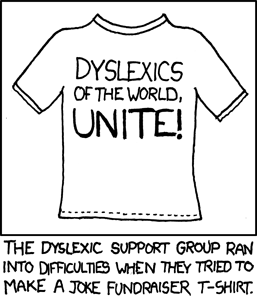 Image: A T-Shirt with the words "Dyslexics of the World, Unite!". The caption reads: "The dyslexic support group ran into difficulties when they tried to make a joke fundraiser t-shirt."
This joke is a reiterated version of a fairly old joke: "Dyslexics of the world, untie!" It's meant to make fun of the spelling difficulties
some folks with dyslexia have
. The joke above implies that folks with dyslexia have SO MUCH trouble getting letters of words in the right order that they cannot even manage to get this joke right!
I'm not sure what the joke is, exactly. Why is this funny? Dyslexic people...don't have spell check? Dyslexic people...can't double-check for spelling errors? Dyslexic people...are incompetent?
Oh, and look, here's some more casual ableism from a comic I usually love, making me type more furiously since I'm already on the topic rather than head to bed:
Image: A stick figure says "The KFC DoubleDown Star Wars Meal is full of win!". The caption reads: "What she means to say: I do not have an opinion on the KFC DoubleDown meal, but I read about it on the internet! I am going to disguise my lack of anything to add by just saying the first thing that comes to my mind. It's kind of like Tourette's, only the stuff I blurt out is totally boring and meaningless."
Sigh. Though disability is not the point of the joke here, it's an unfortunate reinforcement of common joke at the expense of
folks with Tourette's
: they are unable to control themselves,
voiceless
; their words are meaningless because of their tics.
In
a post from Bitch week before last
, I set up a condition for a kyriarchy-reinforcing joke:
IF a character on a television reflects or reinforces the kyriarchy through problematic/loaded language or actions.
AND the joke is ignored, applauded or otherwise validated by another character
THEN the joke constitutes a reinforcement of kyriarchy in society.
I believe both of these jokes fall under this category. The first reinforces stereotypes and tired tropes about dyslexic folks without doing anything to counter it or give any kind of social meaning or message. It's a lazy joke making fun of people who are already marginalized because of the thing that it marginalizes them for.
The second instance? It uses Tourette's to make a small joke, to make fun of someone else. It reappropriates without any kind of critique of the comparison.
I'm not an expert in either of these disabilities. But I know enough about ableist jokes to recognize it when I see it: jokes that appropriate experiences and conditions without thought, without care,
without any kind of redeeming value
beyond a short laugh from a likely mostly able-privileged audience. And that is what both of the above instances look like to me.
I like both of these comics, and I'll continue reading them. But this synchronicity of ableism was pretty disappointing.
What do you think? Where do you see casual ableism in comics?
Please check out the comments for a valuable counter-argument from
Cessen
!